Box-Pak (Malaysia) Bhd journey in pursuit of sustainable value creation through good corporate governance and commitment to ESG initiatives started in 2017. Commitment came from the highest level when our Board of Directors approved and adopted a Sustainability Policy for Box-Pak Group of Companies.
The Group continues to work at embedding sustainable practices across different facets of its business. Our progress in meeting our sustainable commitments todate is tabled below: -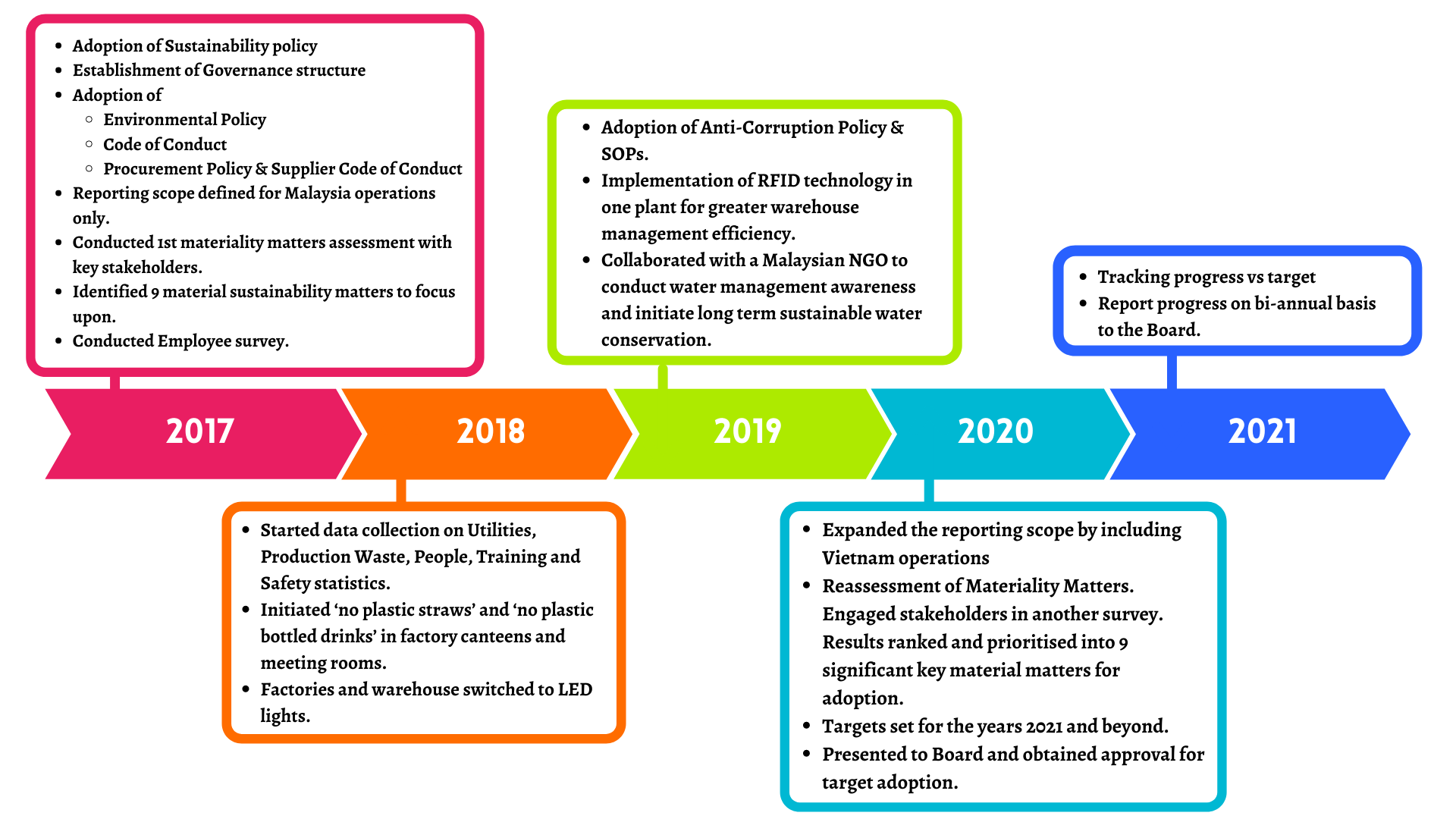 In the months ahead, we are working to align our reporting with UN Sustainable Development Goals and adopt Global Reporting Initiatives (GRI) reporting for greater harmonisation.
As it is currently, the structure and content of our Sustainability Report draws from Bursa Malaysia's Sustainability Reporting Framework.
OUR SUSTAINABILITY REPORT
SCOPE OF REPORT
This report covers the Group's significant Malaysian and Vietnam operating units.
OUR APPROACH
The Group conducts its business activities in a responsible and ethical manner by embedding sustainability practices in our business activities to ensure the long-term growth and profitability of the Group.
| | | |
| --- | --- | --- |
| ECONOMIC SUSTAINABILITY | ENVIRONMENTAL SUSTAINABILITY | SOCIAL SUSTAINABILITY |
| To continuously improve business profitability for our shareholders, create beneficial value to all stakeholders, furnish customers with high quality products, and develop mutually beneficial business relationships with our suppliers. | To reduce our carbon footprint by ensuring sustainable water consumption, efficient energy usage, minimize greenhouse emissions, reduce waste generation and increase recycling practices. | To provide a safe and conductive working environment for our employees to contribute and grow their careers. To ensure all our employees are treated with respect. To provide employment opportunity to the community. |
The Group pursues its sustainability approach according to these principles:
Embed sustainability practices in every part of the value chain of our business activities.
Consider all stakeholders' interest during the planning and implementation of sustainability approaches and strategies.
Periodically review our sustainability approach and practices to ensure the journey aligns with our business objectives.
OUR GOVERNANCE STRUCTURE
The Group established a governance structure to manage its sustainability efforts. Having a formal governance structure help strengthened and solidify decisions to embed sustainability in the Group's business objectives, strategies and management.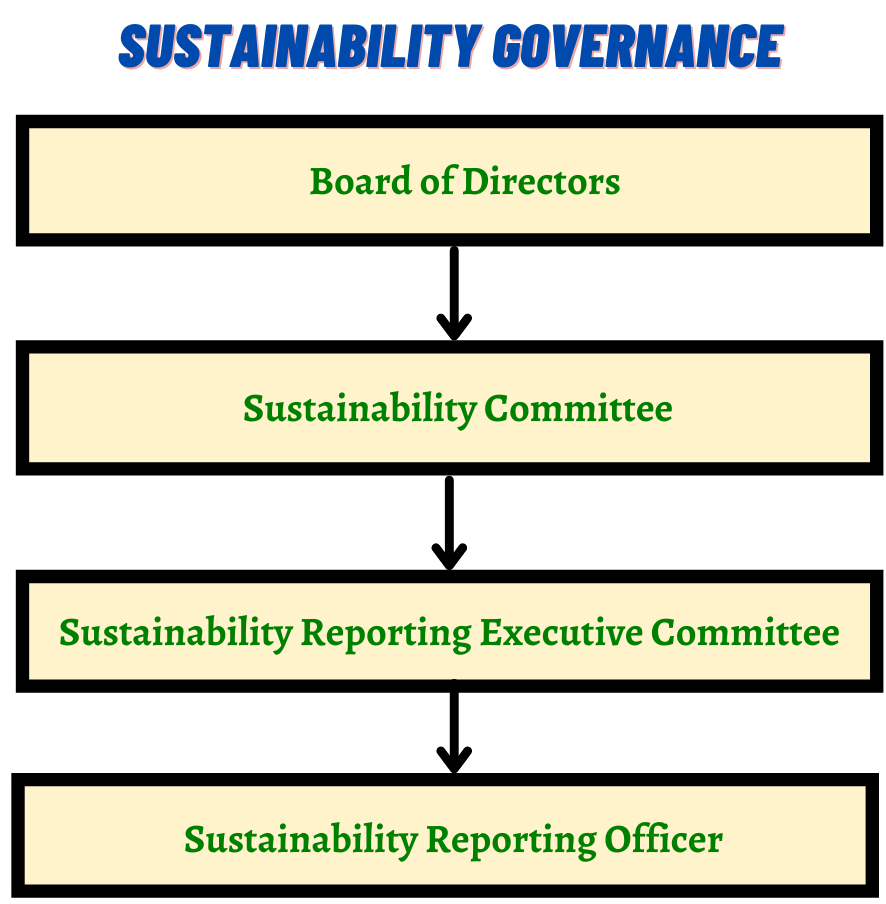 OUR STAKEHOLDER ENGAGEMENT
Stakeholders are parties that can be impacted by or impact our Company's business activities. We conduct periodic engagement with our various stakeholders because we recognize that their perspectives may be important in helping the Group prioritize its actions for continuous sustainability improvements.
Working with stakeholders improves our ability to address priorities. Engaging with stakeholders formally and informally help the Group to ensure continue business sustainability as well. We listen and learn from stakeholders and furnish them with information where appropriate, so they understand our actions and direction with greater clarity.
Summary of the Group's key stakeholders and how the Group engages them:
STAKEHOLDER
METHOD OF ENGAGEMENT
STAKEHOLDER CONCERNS
OUR RESPONSE
Shareholders and Investors
• Annual General Meeting
• Higher financial returns
• Value of investment
• Dividends
• Good financial performance
• Strong corporate governance measures
Employees
• Employee Survey
• Town Hall Meetings

• Safety at workplace
• Career development
• Benefits
• Equal opportunity
• Career development
• Rights and Respect
• Safe environment
Customers
• Customer Satisfaction Survey
• Customer feedbacks
• Face-to-face meetings
• Pricing
• Delivery
• Quality
• Sustainability

• Reasonable pricing and reliability
• Quality and sustainable processes

Suppliers
• Suppliers' survey
• Supplier meetings
• Supplier audits

• Cost efficiencies
• Compliance to sustainability matters
• Quality product

• Reliability and Quality
• Retention
• Collaboration opportunities

Government
• Compliance with government legislative framework
• Regulatory disclosure
• Accountability
• Access to premise and records

• Certifications
• Compliance to regulations
• Transparency

Community
• Meeting with local communities
• Provision of jobs and internship to graduates
• Local employment
• Environmental impacts

• Internship
• Job placement
• Environmental responsibilities

OUR MATERIALITY ASSESSMENT
The Materiality Assessment is a stakeholder engagement exercise designed to gauge the Group's most noteworthy economic, environmental and social impacts that are of importance to its stakeholders. This process helped us identify and prioritise key matters according to its impact on business activities and its importance to our stakeholders.
We engaged a broad cross section of our customers, suppliers, employees, community as well as government stakeholders in this exercise to ensure we have a wide range of diverse feedback on sustainability matters that are important to us. This was conducted via a survey. The material matter assessment was completed by end of Quarter 4 FYE 2020.
MATERIALITY ASSESSMENT PROCESS
IDENTIFY POTENTIAL ISSUES
• Identified and compiled a list of significant areas of the Group's operations.
• Materiality assessment process was conducted to gather the feedback from stakeholders through electronic surveys as well as physical survey.

PRIORITISE ISSUES
• Develop the materiality matrix based on the scores of the survey which help to isolate, rank and prioritise our sustainability key matters.
SENIOR MANAGEMENT VALIDATION
• The sustainability material matrix was reviewed by the senior management, deliberated and agreed upon.
The materiality matrix below represents the outcome of the Group's materiality assessment exercise. Sustainability key matters have been rated on a scale of low, medium and high. To prioritize each key matter, we used a scale of 0% to 40% as low priority and 75% to 100% as high priority. There were eighteen (18) sustainability matters shown in the materiality matrix according to the ranking provided by our stakeholders. The material matters are selected to emphasize all three (3) Sustainability Pillars namely Economic, Environmental and Social Impact.
We have selected nine (9) key material matters base on the rankings explained above to focus our efforts and to set targets for the year 2021 and beyond.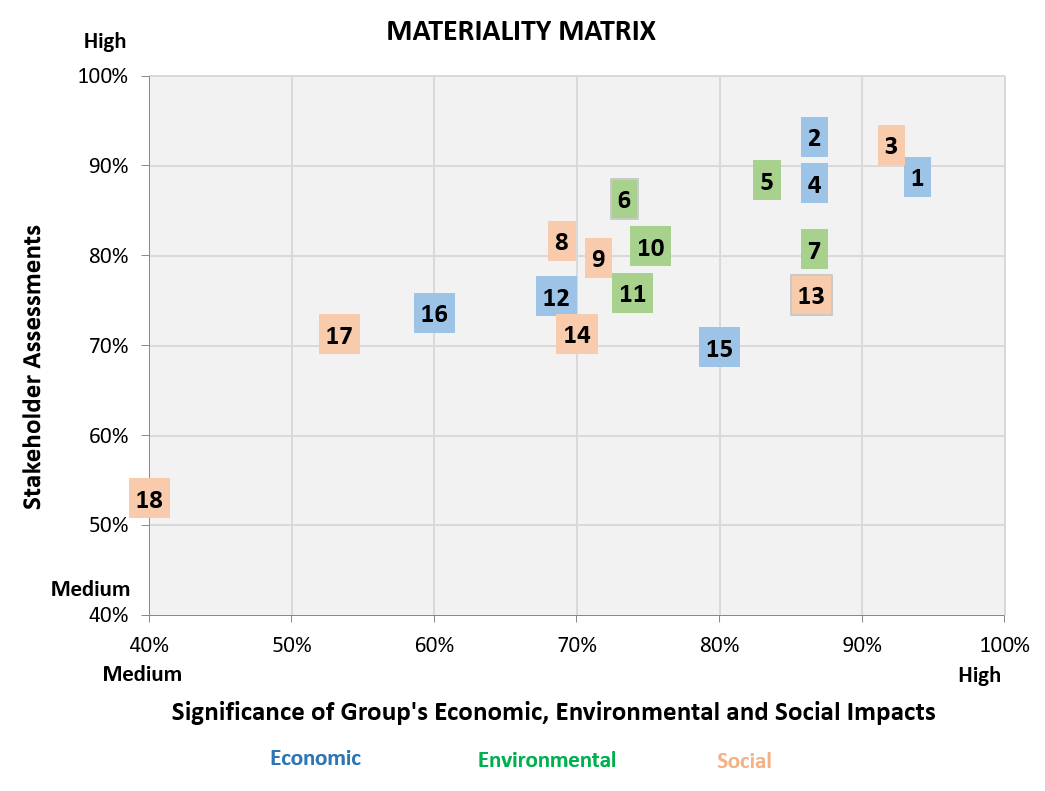 | | | | |
| --- | --- | --- | --- |
| Order of Significance Ranked by Our Stakeholders | Top 9 Sustainability Materiality Matters | Order of Significance Ranked by Our Stakeholders | Other Sustainability Materiality Matters |
| 1 | Product Safety | 10 | Electricity Consumption |
| 2 | Business Ethics | 11 | Water Consumption |
| 3 | Safety at Workplace | 12 | Smart Manufacturing |
| 4 | Ethical Sourcing | 13 | Leadership |
| 5 | Waste Management | 14 | Employee Training Development |
| 6 | Air Quality | 15 | Product Life Cycle |
| 7 | Energy & Carbon Emission | 16 | Succession Plan |
| 8 | Employee Engagement | 17 | Foreign Workers |
| 9 | Diversity & Fair Treatment | 18 | Freedom of Association |
SUSTAINABILITY TARGETS
As a result of the most recent survey exercise, the Board of Directors in 2021 has approved the following sustainability targets for each of the nine material matters.
Sustainability Pillar
Key Material Matters
Sustainability Targets
Economic
• Product Safety
• Business Ethics
• Ethical Sourcing

• Zero product recall from packaging material defects
• Zero bribery and corruption cases reported
• Procure from suppliers who are ethically compliant

Environmental
• Waste Management
• Air Quality
• Energy & Carbon Emission

• Minimise waste generation. Scheduled waste management compliant with regulatory framework
• Air emission consistently meet DOE guidelines
• Adoption of solar energy as renewable source for greenfield sites. For Vietnam plant, substitution of coal energy to gas or fuel oil.
• Energy efficiency will be given high consideration for future machinery and equipment investment

Social
• Safety at Workplace
• Diversity & Fair Treatment
• Employee Engagement

• Zero employees and contractor fatality
• Increase female representation by 10% by 2025
• Increase staff retention rate by 3% by 2025
• Improve staff satisfaction rate by 5% by 2025

These targets will be measured against the FYE 2020 baseline and progress of achievement will be reported from year 2021 onwards.
Our Sustainability Report is published annually as part of its Annual Report which is available for download on our website under Investors Relations tab or alternatively at Bursa website under company announcements.